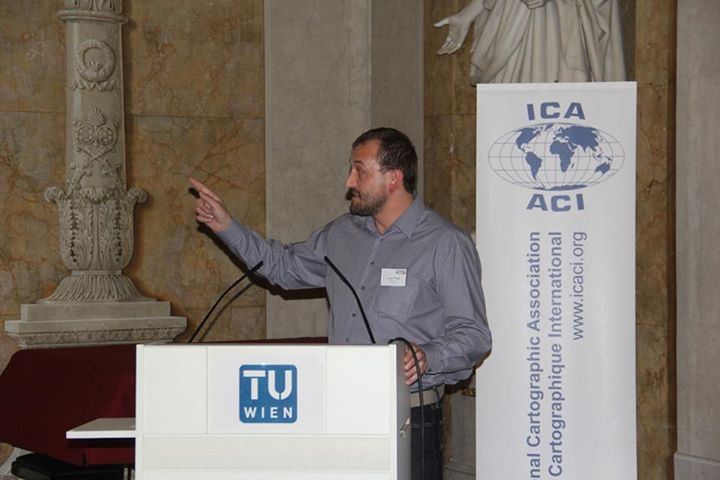 Tomaš Kliment
Tomáš Kliment je NEWFELPRO-ov istraživač koji u listopadu ove godine završava svoj dvogodišnji projekt "
Crosswalking the layers of geospatial information resources to enable a borderless geospatial web (BOLEGWEB
)". Stručnjak za geodeziju i geoinformatiku, dr. sc. Tomáš Kliment, provodi svoje istraživanje, pod vodstvom prof.dr.sc. Vlade Cetla na Geodetskom fakultetu Sveučilišta u Zagrebu.
Cilj njegovog istraživanja je omogućiti učinkovitiji pristup geoinformacijama, kao i proširiti samo područje korištenja geoinformacija (GI), odnosno unaprjeđenje standardne usluge web pretraživača kako bi se omogućila učinkovita detekcija i široko korištenje geoinformacija.
U tijeku svog projekta održao je prezentaciju svog projekta, a ujedno i samih rezultata projekta, na Svjetskom geoprostornom forumu – INSPIRE u Lisabonu (Portugal), Međunarodnoj znanstvenoj geokonferenciji SGEM u Albeni (Bugarska), IGARSS-u 2015.godine u Milanu (Italija), GIT-u 2015. godine, ECTQ-u 2015.godine, ASITA 2015. godine i na Earth Observation Open Science 2.0. Sudjelovao je i na EUROCARTO 2015 u organizaciji Međunarodne kartografske asocijacije i Sveučilišta u Beču.
Tijekom svog projekta, sudjelovao je na treningu "Online training Shedding Light on INSPIRE Conformity" te je predstavio svoj projekt u sklopu projekta DEMLAS (Development of multipurpose land administration system). Sudjelovao je i na radionici HACKATHONS Danube Open (Geo) Data Hackaton and Developers' Workshops u Bratislavi (Slovačkoj) i na Baltic Open (Geo) Hackaton u Rigi (Latvija).
Njegova dva autorska i dva koautorska rada objavljena su u zborniku radova u sklopu SGEM konferencije. Autor je rada u
zborniku radova IGARSS
konferencije koji je predan i za objavu u publikaciji Selected Topics in Applied Earth Observations and Remote Sensing. Koautor je i rada u zborniku radova sa ECTQ konferencije. Koautor je i poglavlja "Volunteered Geographic Information and Spatial Dana Infrastructures to promote s-Low resources: the case study of the Orti di Bergamo smart application" u knjizi Centrality of Territories (izdanje Bergamo University Press).
U nastavku, u tijeku svog projekta objavio je i sljedeće radove:
KLIMENT, Marcel; KOČICA, Jakub; KLIMENT, Tomáš. Land Use Dataset Collection And Publication Based On Lucas And Hilucs. Acta Horticulturae et Regiotectuare, 2014, 17.2: 52-59.

Kliment, T., Carrara, P., Oggioni, A. (2015). "Geospatial Data Infrastructure Components Deployed for LTER-Europe Researchers' Community". AGRIS on-line Papers in Economics and Informatics, Vol. 7, No. 4, pp. 64 - 78, ISSN 1804-1930.

Kliment, T., Bordogna, G., Frigerio, L. (2015). "A Geospatial Data Infrastructure Deploying an Information and Knowledge Platform for the Agriculture Sector". Kartografija i Geoinformacije, Vol. 14, No. 24, pp. 4 – 24, ISSN 1848-0713

Bordogna, G., Carrara, P., Kliment, T., Frigerio, L., Sterlacchini, S. Spatial Data Infrastructures empowered by Interoperable Volunteered Geographic Information

Tuchyňa, M., Kliment, T., Pastorek, P., Kršák, B., Okaníková, Z., Kočica, J. Cloud Based Geospatial Support for Ecosystem Services Evaluation in Slovakia: A Case Study of SDI4APPS Project

Kliment, T., Cetl, V., Kliment, M., Tuchyňa, M. Making More OGC Services Available on the Web Discoverable for the SDI community
Njegov rad predan za ICA konferenciju je odabran i za publiciranje (u široj formi) u sklopu serije knjiga Lecture Notes in geoinformation and Cartography u izdanju Springera (knjiga treba izaći u rujnu 2017. godine). Također je predao i manuskript za Joint Workshop and Annual Meeting on Crowdsourcing of Land Information na Malti koji je odabran za publiciranje u Survey Review (izdanje će ugledati svjetlo dana u rujnu 2016. godine). U nastavku, izlagat će svoje rezultate istraživanja na ovogodišnjoj INSPIRE konferenciji u rujnu. Više informacija možete naći na Tomaževoj
službenoj stranici projekta
.
Tomaš je sudjelovao na
Noći istraživača 2015. godine
na kojoj je predstavio svoje istraživanje i NEWFELPRO projekt te je ujedno bio i suorganizator Ljetne GIS škole u Nitri na kojoj je održao predavanje za dvadeset studenata iz Slovačke i Poljske.